NGO report on the implementation of Sustainable Development Goals in Latvia (2022)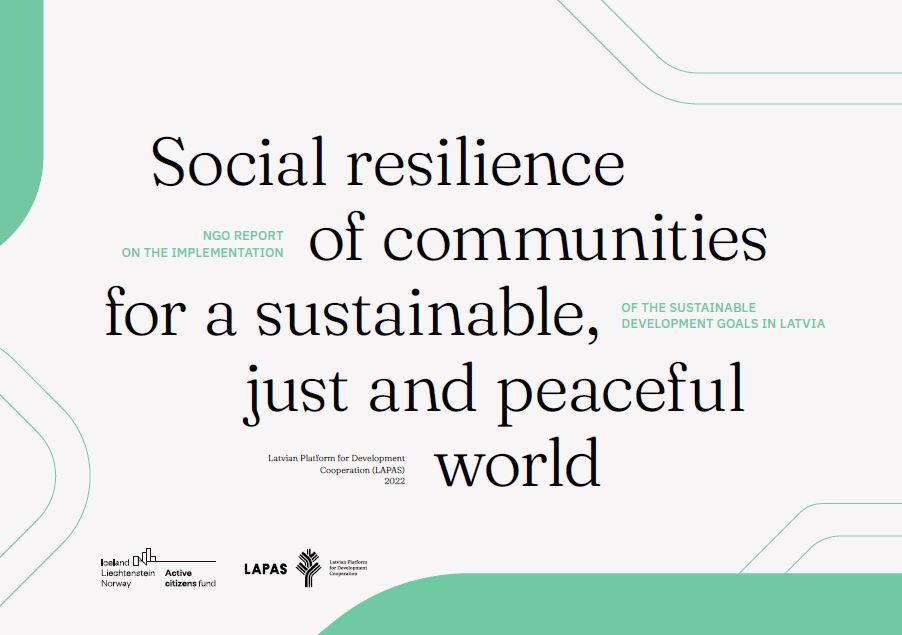 NGO report on the implementation of Sustainable Development Goals in Latvia
One of annual global the review events of the implementation of Agenda2030 is the UN High Level Political Forum on Sustainable Development (#HLPF) under the auspices of the UN Economic and Social Council. The 2022 HLPF took place from July 5 to 18 in New York The year's priority goals of the year were 4. (Quality education), 5. (Gender equality), 14. (Life under water), 15. (Life on land), 17. (Partnership for the implementation of goals).
On average, every four years, each country reports on the progress of the implementation of the Sustainable Development Goals (#SDGs). On year 44 countries were reporting including Latvia. Latvia provided also its voluntary side report in 2022 Latvia reported on the forum for the second time, the first report was prepared on 2018.
LAPAS, similarily as in 2018, conducting consultations with NGOs, young people, using the results of research, developed an NGO report. The report contains an overview of the NGO sector, evaluation of the implementation of the goals and recommendations.
Latvia was represented at the HLPF this year by an interdisciplinary delegation, which also includes LAPAS director Inese Vaivare. On July 12, 2022, Anita Muižniece, minister Education and Science of Latvia presented the report, a side report of the NGO was presented by Inese Vaivare. The recording of the presentation can be viewed here.
The report has been prepared with the support of Iceland, Liechtenstein and Norway through the EEA and Norwegian grant program "Active Citizens Fund".